LeLiteN
INGREDIENTS: Cassia, Cinnamon Bark, Ginger, Grapefruit, Lime, Peppermint
AFFINITY FOR: digestive system, lymphatic system, immune system, emotional balance, triple warmer meridian, base chakra
RESONANCE: physical, emotional
APPLICATION: A few drops on your wrists. Inhaling the aroma frequently is very effective.
AROMATIC CONSIDERATIONS: Consider diffusing LeLiteN in your home or workplace, especially between meals or when feeling tired, worn out, stressed, or discouraged.
PHYSICAL ASPECTS: LeLiteN is meant to improve metabolic function, stabilize hormones, and balance blood sugar. A fit and healthy body recovers more quickly and is more disease resistant. Well-oxygenated cells tend to produce healthy new cells, increasing vigor, stamina, and energy levels.
EMOTIONAL - SPIRITUAL - MENTAL ASPECTS: Food cravings and a tendency to snack between meals can be the result of stress, fatigue, or boredom. The stimulating and refreshing aroma of LeLiteN is a perfect choice for any situation in which one might turn to food for comfort, encouragement, or a boost of energy. This blend encourages a desire for fitness and vitality, and can aid us in developing sufficient energy reserves for the accomplishment of anything that our heart desires.
©Copyright Butterfly Expressions 2020, 2021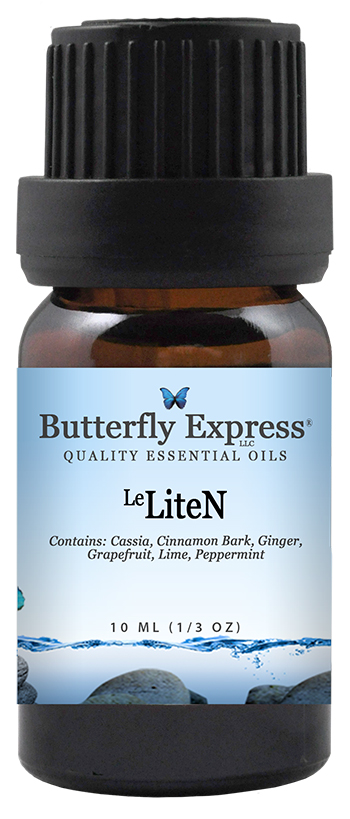 Purchase Here