Tamanu Oil
(Calophyllum inophyllum)
EXTRACTION METHOD: cold pressed
CONSISTENCY: heavy weight, slightly grainy, dark green/yellow color
PART UTILIZED: nut, seeds
APPLICATION: Can be used by itself or in a blend with other carrier oils.
AROMATIC CONSIDERATIONS: strong nutty aroma
GENERAL INFORMATION: Tamanu promotes the formation of new cell growth and the elimination of dead cells, thus accelerating wound healing. Tamanu is also known to possess anti-inflammatory, antibiotic, and antimicrobial properties. Tamanu should be considered as the carrier oil of choice when working with eczema or psoriasis, burns, acne, dry or scaly skin, diaper rash, diabetic ulcers, and in relieving pain from sciatica, shingles, and arthritis.
Although Tamanu Oil is thick and dark in color, when applied to the skin it is readily absorbed and leaves no oily residue. Tamanu Oil is made by pressing the fruit of the Calophyllum tree which grows in Eastern Africa and Southeast Asia. Tamanu is renowned for its skin conditioning properties. It is very widely distributed in the cosmetic industry due to its effect on the skin as well as antioxidant properties. Tamanu can be used as a carrier oil or just plain for a moisturizer.
©Copyright Butterfly Expressions 2020, 2021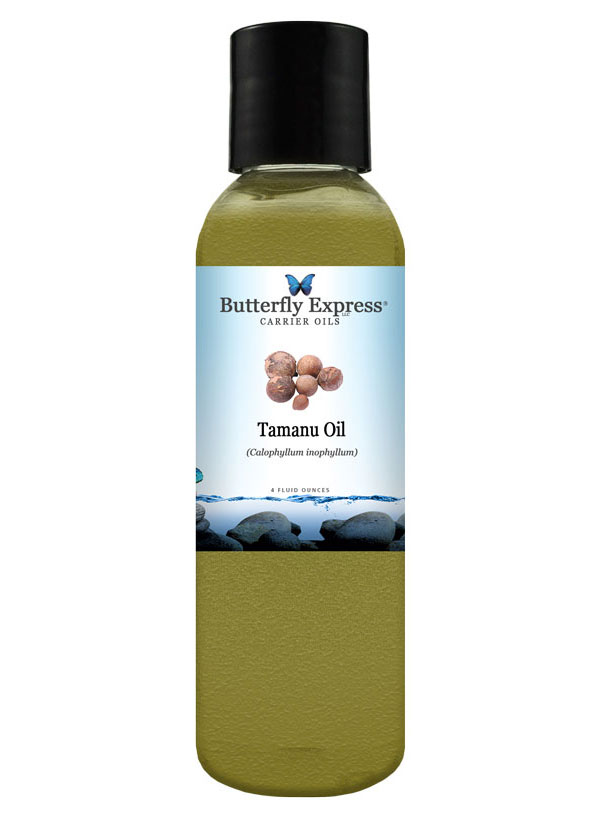 Purchase Here