Lotions
These homemade natural lotions are gentle enough for all skin types. They are paraben free, formaldehyde free, and they contain no petroleum products, no animal products, and no artificial fragrances or dyes.

Ingredients: distilled water, veggie emulsifier, stearic acid, sunflower oil, aloe vera extract, vitamin E oil, sodium lactate, argan oil, shea butter oil, liquid silk, optiphen (a formaldehyde and paraben free preservative), benzoin essential oil, and different essential oils for fragrance and therapeutic properties depending on which lotion you choose.

Each of the plant based oils in these lotions have exceptional healing properties for skin care. Here is a little bit on each of them.  

Sunflower Oil restores proper moisture balance in skin, whether the problem is dryness or excessive oiliness.
Vitamin E oil is known for its high level of antioxidant properties, making it great for damaged skin and preventing the skin from showing signs of aging.
Argan Oil helps fight lines, repairs imperfections, minimizes scars and stretch marks, and restores texture, elasticity and tone to the skin.
Shea butter Oil provides superb moisture, with exceptional healing properties for the skin, and is rich in vitamin A.
Aloe Vera extract increases the elasticity of the skin making it more flexible through collagen and elastin repair. Aloe is emollient and helps supply oxygen to the skin cells. It is great for sunburned skin.


LeAgeless Lotion: (frankincense, helichrysum, lavender, litsea cubeba, opoponax myrrh palmarosa, rose, sandalwood, zanthoxylum)   LeAgeLess is made from 9 essential oils, each one bringing its unique healing and regenerating properties to this astonishing blend. This combination of essential oils assists in maintaining or developing beautiful and healthy skin one cell at a time. Some of the oils in this blend prevent free radical damage. Others are useful in repairing damage caused by wind and sun. Daily use of this blend can be helpful in strengthening fragile capillaries and bringing a healthy, radiant glow to the skin.

LeAboutFace Lotion: (frankincense Carterii, frankincense frereana, frankincense serrata, opoponax myrrh, palo santo) LeAboutFace is an excellent skin regeneration oil and is mild enough to be used on the face. Frankincense oil is known for its potent anti-aging qualities. It promotes regeneration of healthy cells, helps eliminate sun spots, and generally tones and tightens skin.

LeSego Lily lotion: (copaiba balsam, grapefruit, rosewood, vanilla) LeSego Lily is a blend for skin care and health. It promotes skin elasticity and may seem to slow the process of aging as it nourishes the skin and smooths out wrinkles.

Carrier lotion: an unscented lotion that can be used on its own, or when applying you can add whatever essential oil you are in the mood for that day.  This lotion is a wonderful alternative to using a carrier oil like coconut oil or almond oil for the application of all your essential oils because it absorbs quickly and completely leaving no mess or residue behind.

Lavender Lotion: (lavandula officinalis) Lavender is a very gentle oil and can be used for nearly all skin conditions. It can be applied to cuts, sunburns, burns, rashes, dermatitis, eczema, and insect bites. Consistent use of lavender with burns and injuries minimizes scarring.  This is a great after-sun lotion.

 Vanilla Lotion: (vanilla planifolia) Vanilla essential oil is rich in antioxidants which prevent and reverse skin damage caused by free radicals. It helps to slow down signs of ageing like fine lines, wrinkles and age spots.

Peppermint Lotion:(menthe arvensis) Peppermint oil nourishes dull skin and improves the texture of oily or greasy skin. It is stimulating to the body and mind, increases circulation, and is anti-inflammatory and analgesic. This lotion has a very nice cooling effect on the skin.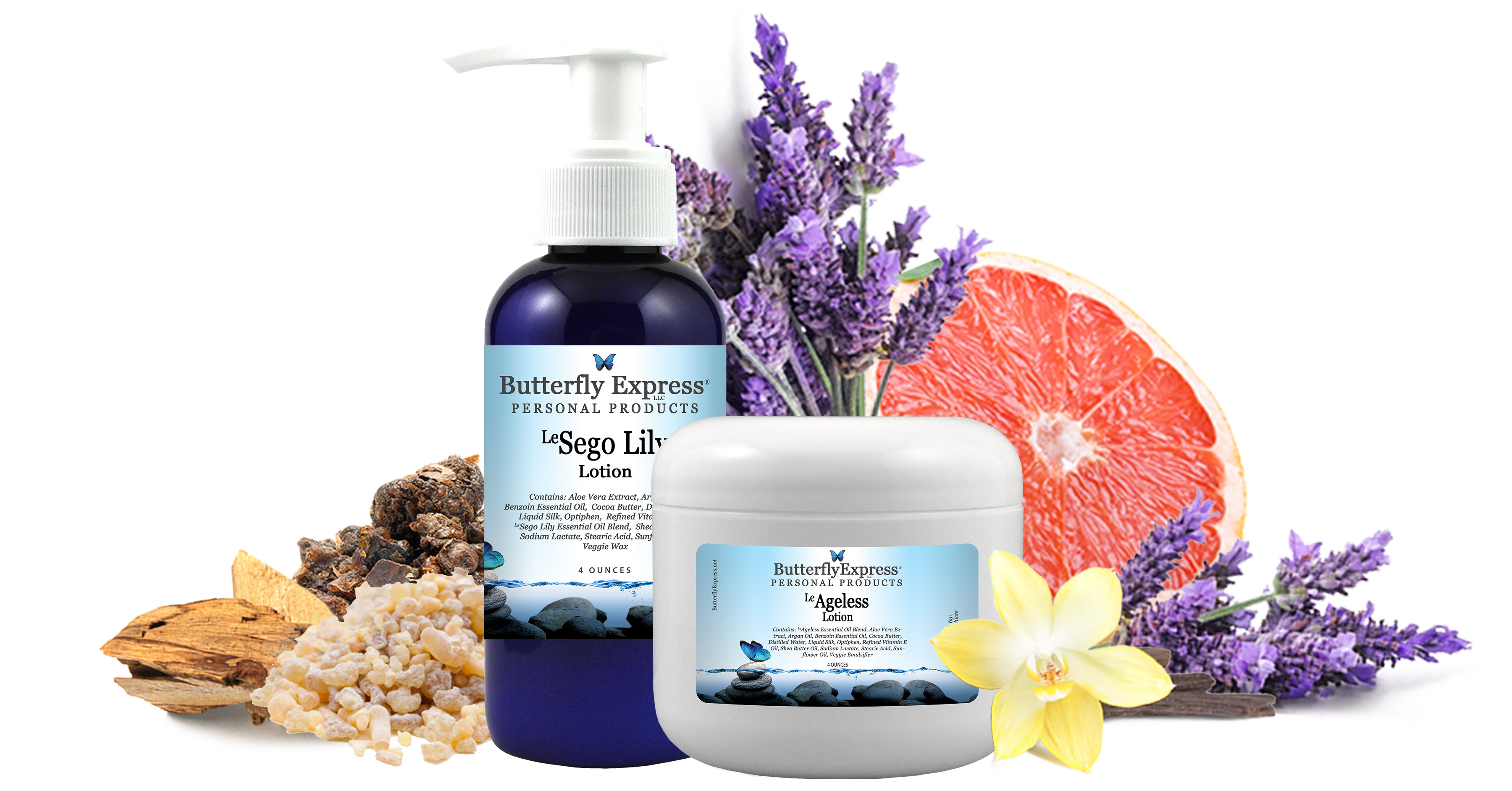 Purchase Here