Clementine
(Citrus nobilis)
INGREDIENT IN: LeInsight
THERAPEUTIC PROPERTIES: tonic, stomachic, digestive, calming, antispasmodic, antiseptic, antibacterial, anti-oxidant
AFFINITY FOR: nerves, emotions
RESONANCE: emotional, spiritual
PLANT FAMILY: Rutaceae
PART UTILIZED: peel of fruit
EXTRACTION METHOD: cold pressed
APPLICATION: Clementine may be applied on the feet or on the body. It is excellent in a bath or diffused. Clementine is a citrus oil that is not considered phototoxic!!
AROMATIC CONSIDERATIONS: The aroma of Clementine is delightful. It can only be described as absolutely "yummy."
EMOTIONAL - SPIRITUAL - MENTAL ASPECTS: Clementine is gentler, softer, and sweeter than its parent plant, Red Mandarin. It is uplifting and gently revitalizing. Clementine is an excellent stress reliever and is often used for insomnia. It can also aid concentration, focus, and memory.
PHYSICAL ASPECTS: Clementine really shines in the realm of skin care. The high levels of Vitamin C and antioxidants can increase collagen production, protect against free radical damage, and help reduce the appearance of wrinkles and signs of aging. A drop or two added to distilled water makes a lovely face wash for acne outbreaks.
Clementine aids in the production of red blood cells making it beneficial for anemia and fatigue. It is also anti-inflammatory and can be used to relieve heartburn.
©Copyright Butterfly Expressions 2020, 2021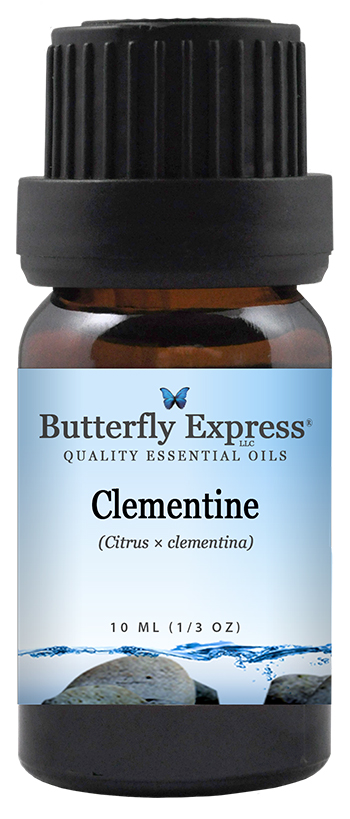 Purchase Here