Lemon Verbena
(Lippia citridora)
THERAPEUTIC PROPERTIES: anti-inflammatory, anti-septic, neuralgic, neuro-muscular, aphrodisiac, immune-stimulant, antioxidant, antibiotic, antibacterial, antiviral
AFFINITY FOR: respiratory system, immune system, nervous system, digestive system, muscles
RESONANCE: physcial, emotional
PLANT FAMILY: Verbenaceae
PART UTILIZED: leaf
EXTRACTION METHOD: Steam
AROMATIC CONSIDERATIONS: vibrant, fresh, fruity, citrus scent
APPLICATION: Dilute well and apply to any area of the body, but be careful with applying to skin that will be exposed to the sun. Use, diluted, for massage to relieve muscular pain and inflammation. Lemon Verbena makes an excellent cleaner with it's fresh citrus scent. Add to your diffuser to freshen the air or repel bugs.
EMOTIONAL - SPIRITUAL - MENTAL ASPECTS: Lemon Verbena relieves anxiety and stress, and supports us during transitions of all kinds. Lemon Verbena strengthens our focus, aids in concentration, and stimulates brain function. Lemon Verbena is an excellent choice for study sessions, improving attention span, and problem-solving. Lemon Verbena is great to use during times of stress, crisis, or sadness as it will support your immune system during the hard times of life.
PHYSICAL ASPECTS: Lemon Verbena loosens phlegm, clears congestion, reduces fevers, and boost the immune system so it is useful during colds or flus. It is considered a "neuroprotective" essential oil because it protects the neurons from damage. It is also helpful for muscular pain, inflammation, spasms and reduces neural inflammation. Lemon Verbena has been used to soothe the digestive tract by toning and improving digestion. Lemon Verbena boosts the immune system and increases white blood cell activity. It is emollient and helps smooth, regenerate, tighten, and tone skin. As a bonus, it makes an excellent insect repellent. Lemon Verbena helps to clear the liver of congestion, aids with heart palpitations, and helps maintain normal blood pressure levels.
GENERAL INFORMATION: Lemon Verbena essential oil is rare and costly, and is sometimes cut with Lemon and Lemongrass. It's leaves don't produce much essential oil during distillation. Lemon Verbena is known by many names including Devil's Bane, Holy Herb, Lemon Bee Brush, or Vervain. The leaves of Lemon Verbena have been used for culinary use for centuries. Today it is gaining popularity as an essential oil, with many medicinal uses. Lemon Verbena is a shrub native to South America that grows between 5-16 feet tall.
CAUTIONS: Lemon Verbena is best avoided if you are pregnant, breastfeeding, or have skin sensitivities. Lemon Verbena essential oil is not for internal use. Lemon Verbena is photo-toxic and will increase sun sensitivity. Avoid sun exposure to skin that has Lemon Verbena applied on it for at least 12 hours.
©Copyright Butterfly Expressions 2020, 2021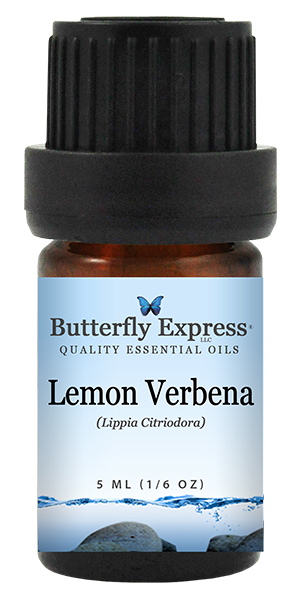 Purchase Here