Manuka
(Leptospermum scoparium)
INGREDIENT IN: LeCandila, LeMariah, LePurify, LeSimplicity, LeStefanie
THERAPEUTIC PROPERTIES: antibacterial, antifungal, antiseptic, antiviral, immunostimulant, antibiotic, antiparasitic
AFFINITY FOR: immune system, killing bacteria
RESONANCE: physical, emotional
PLANT FAMILY: Myrtaceae
PART UTILIZED: leaves and seeds, wild crafted
EXTRACTION METHOD: steam distilled
AROMATIC CONSIDERATIONS: Manuka has a woodsy scent that is warmer and less caustic than the aroma of Tea Tree. It is much more pleasant when diffused than Tea Tree and very antiseptic.
APPLICATION: Dilute and apply to the feet or the body.
EMOTIONAL - SPIRITUAL - MENTAL ASPECTS: Manuka is gently cleansing to the energy body. It makes us feel as though we are "ready and waiting" for something in our lives. The aroma of Manuka can start us on the first step toward a goal or project.
PHYSICAL ASPECTS: Manuka is reported to be many times more effective against both gram negative and gram positive bacteria than its close cousins, the many varieties of Tea Tree (Melaleuca). Manuka is milder and more pleasant in aroma and less caustic to the skin than are the Tea Tree oils. Manuka is strongly antifungal and effective against a wide variety of yeasts and molds.
Suggested uses for Manuka include eliminating athlete's foot and toenail fungus, relieving dry, cracked, and irritated skin conditions, neutralizing pathogens in the air, and healing cold sores. Manuka can be used effectively on insect bites and stings to avoid infection and dull pain. Used undiluted and consistently, Manuka oil is strong enough to eradicate warts. Well diluted, Manuka oil relieves the itch/burn of chicken pox sores.
CAUTIONS: Manuka is fairly new to the essential oil market. While there are no safety cautions or contraindications in any literature that I can find, it is wise to use a little caution with an unfamiliar oil.
©Copyright Butterfly Expressions 2020, 2021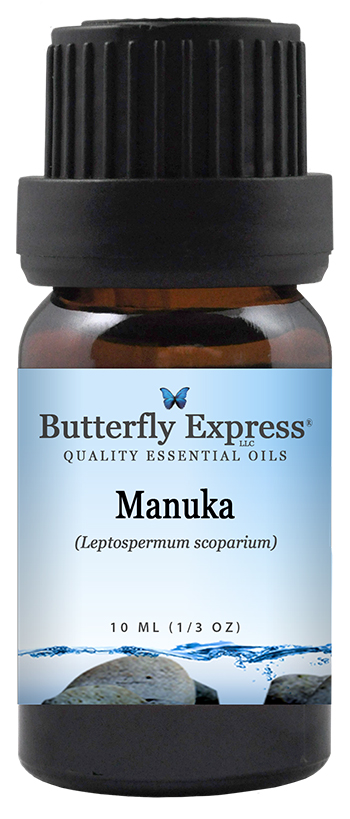 Purchase Here