<
White Pepper
(Piper nigrum)
INGREDIENT IN: LeConnection, LeEZ Traveler, LeWeightLess
THERAPEUTIC PROPERTIES: anti-inflammatory, analgesic, muscle relaxant, circulatory stimulant, carminative, detoxifying, diuretic, expectorant, laxative, aphrodisiac
AFFINITY FOR: respiratory system, muscles and joints, lymphatic system, digestive tract, yang energy, bones
RESONANCE: physical, emotional, mental
PLANT FAMILY: Piperaceae
PART UTILIZED: Fruit (white berries)
EXTRACTION METHOD: steam distilled
APPLICATION: White Pepper essential oil should be well diluted for topical application
AROMATIC CONSIDERATIONS: White Pepper essential oil has a crisp, fresh peppercorn aroma. It has an uplifting action on the mind and is quite soothing to the senses.
EMOTIONAL - SPIRITUAL - MENTAL ASPECTS: White Pepper is viewed as having balancing and refreshing aspects. It is said to be energizing to the mind, invigorating as well as revitalizing the spirit.
PHYSICAL ASPECTS: White Pepper essential oil is beneficial for muscular aches and pains, osteoporosis, and sprains. It can be helpful for rheumatism as well as rheumatoid arthritis. White Pepper can stimulate the circulatory system to function more appropriately.
GENERAL INFORMATION: White Pepper essential oil is made from the same fruit as Black Pepper. The berry is picked when fully ripe and the outside layer is removed.
CAUTIONS: White Pepper essential oil may cause skin irritation to sensitive skin. It should be avoided during pregnancy
©Copyright Butterfly Expressions 2020, 2021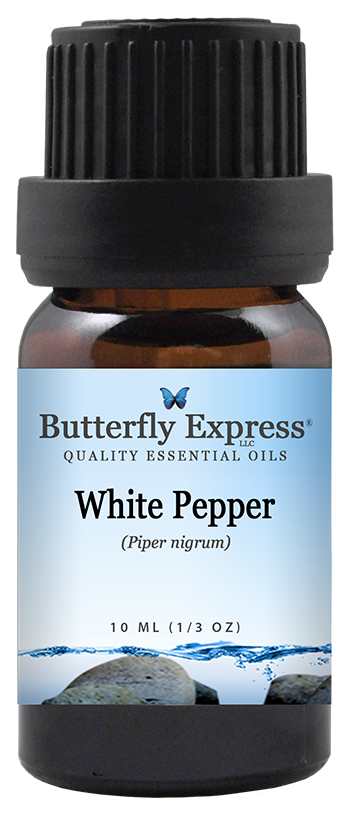 Purchase Here