LeAgeLess
INGREDIENTS: Frankincense, Helichrysum Angustifolia, Lavender Officinalis, Litsea Cubeba, Opoponax, Palmarosa, Rose, Sandalwood, Zanthoxylum
AFFINITY FOR: nervous system, lymphatic system, immune system, circulatory system, skin, yin energy, heart chakra, earth meridian, cellular structure and strength
APPLICATION: LeAgeLess should be applied to the skin of the face, neck, hands, and arms (and anywhere else you would like). A carrier oil containing 10% of Jojoba can bring a little extra emollient value to this blend.
AROMATIC CONSIDERATIONS: The intent of this blend is to create feelings of contentment and confidence while nourishing and protecting the skin.
EMOTIONAL - SPIRITUAL - MENTAL ASPECTS: LeAgeLess is a wonderfully synergistic and beautifully aromatic blend of essential oils with mood elevating and confidence building properties. Designed to foster within us both a vision of ourselves as accepted and acceptable and a readiness, always, to become even better. We can welcome change, moving forward with joy into the truly golden years—whichever years they are—of our lives. Maturity, done gracefully, comes with wisdom and profound feelings of joy.
PHYSICAL ASPECTS: LeAgeLess is made from nine essential oils, each one bringing its unique healing and regenerating properties to this astonishing blend. This combination of essential oils assists in maintaining or developing beautiful and healthy skin one cell at a time. Some of the oils in this blend prevent free radical damage. Others are useful in repairing damage caused by wind and sun. Daily use of this blend can be helpful in strengthening fragile capillaries and bringing a healthy, radiant glow to the skin.
©Copyright Butterfly Expressions 2020, 2021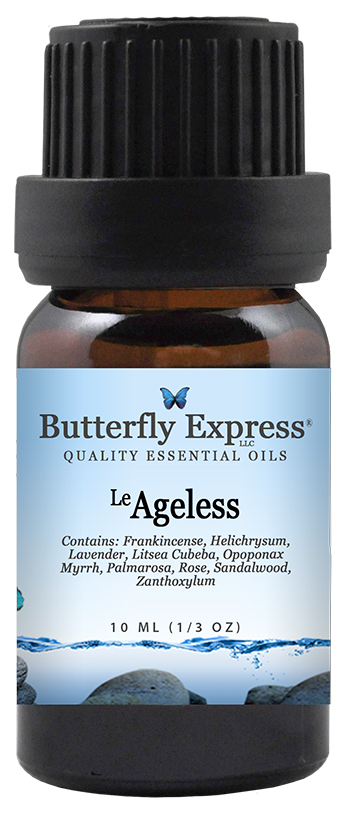 Purchase Here