LeWoodland Path
INGREDIENTS: Chamomile German, Cypress, Galbanum, Lemongrass, Vetiver, Violet Leaf
AFFINITY FOR: nervous system, lymphatic drainage, solar plexus, gallbladder meridan, spleen meridan
RESONANCE: physical, emotional, spiritual
APPLICATION: This blend is very nice diffused, applied to the back of the neck, wrists, or on your feet.
AROMATIC CONSIDERATIONS: This blend has herbal tones that remind you of walking in the woods which is very grounding to all systems of the body. This is a good oil to bring you back to happy summer days spent among nature's greenery.
EMOTIONAL - SPIRITUAL - MENTAL ASPECTS: LeWoodland Path is designed to allow us to take a journey down a woodland path, to get a touch of nature, to reconnect with our wonderful Mother Earth. Use to relieve stress, center yourself, and begin anew as each spring the woods do.
PHYSICAL ASPECTS: LeWoodland Path is blended with oils that help the lymphatic system function better which benefits the whole body.
©Copyright Butterfly Expressions 2020, 2021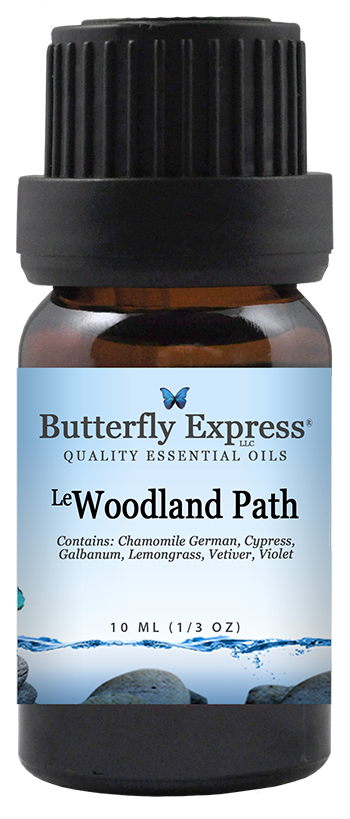 Purchase Here